Domaine Lattard is a family owned, agricultural and wine-growing estate. The estate is co-managed by the brothers Denis (54 years old in 2020) and Luc (53 years old in 2020).
Denis (the man with the eternal crocs), passionate about vines and wine, created the wine-growing section in 1995. He continues to manage all the mechanical and biological techniques, which are constantly evolving, both in the vineyard and in the cellar. He is also in charge of the estate's administrative tasks.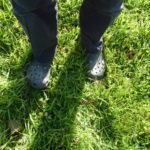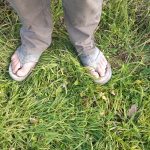 Luc (the man in the eternal flip-flops), as for him, takes care of the other farming activities, cereals and small rabbit breeding (integrated in SICA, Société en Coopérative Agricole). Of course, he helps out with the large seasonal viticultural activities.
Michel, a retired winegrower in Clairette de Die, not part of the family, is employed part-time to assist Denis in the vineyard. He manages the small seasonal team that returns each year for manual work on the vines.
Then there is the previous generation (mum and dad) for the small every day activities and precious little help! And finally, the next generation, Andréa, Robin and Philippe, who take part, if they have free time, in the seasonal work!